Hey people!
I hereby present my
WoE Wizard
, which I am currently playing.
I would be delighted if the discussion is based on figures and facts while personal preferences are clearly stated as such. Please bear in mind that this build is also exclusively focusing on War of Emperium. PvM, MvP and leveling capabilites are completely ignored.
Let's start with the stats. It's base + job bonus + potential equip bonus.
STR
1 + 1
AGI
1 + 8
VIT
80 +1
INT
90 + 12 (+8) + 10 Blessing
DEX
64 + 6 + (12)+ 10 Blessing
LUK
10 + 2
Let me quickly remind you how
MATK
is connectec to INT. Minimum MATK gets a boost at multiples of 7 while maximum MATK gets boosted at multiples of 5. Therefore a total INT of 105, 110,
112
, 115, 119 and
120
is desireable. Note that I marked the important 112 and 120 total INT, which this build is focusing on.
There is basically two sets of items you can and want to use:
INT set

:
Equipping the classic Evil Bone Wand and two Earrings let's you end up with a total of 120 INT. In case of my favorite example Storm Gust it would lead to a cast time of slightly less than 8 seconds. Considering a level 99 Knight with Drooping Cat and Silk Robe, i.e. a dummy with 25 MDEF and 40% resistance against damage from demi-human sources, Storm Gust would hit for 609 - 1053 (average 831) damage.



DEX set

:
Perks of this stat build would be hitting 112 INT even without any further INT gear. You are therefore free to use Nimble Gloves and Quadrupple Dexterous Rod which aids a moderate 12 DEX bonus, meaning 8% faster cast time, resulting in 6.8 seconds cast time for Storm Gust. Again calculating the damage against the dummy mentioned above one would deal 545 - 898 (average 721) damage.
However you can always use Poopoo Hat
and Cranial Guard
. In combination with Immune Muffler
(or
Ginie's
Muffler) and Energy Coat you end up being quite resilient.
You might have noticed the exceptionally high VIT. This is the main characteristics of the build. Plain facts first: the total hp would be 5889 hp. Always having a dancer's
Scream/Dazzler
in mind you'd have a 81% chance to resist the 50% base stun chance of that skill, meaning you'd be effected by stun only in roughly 1 out of 10 attempts and even then only for 0.95 seconds instead of 5 seconds (which is ridicolously long as you all might know).
If you are further interested in
Status effects
please remember, that iRO classic mechanics differ (partially a lot) from pre-renewal or even renewal mechanics!
Well last but not least everything that is left to spend stat point wise goes into DEX and that 10th point in LUK (which could also be spent for an additional point of STR). The total 70 DEX (in case of INT-based equipment and no Blessing) is incidentally hitting a multiple of 10. As every point of DEX reduces the cast time by 2/3 % you'd cut the cast time by slightly less then 47% (or ~61% respectively with DEX gear and Blessing).
So now let's have a look at the skills. As always: a picture replaces wall of text.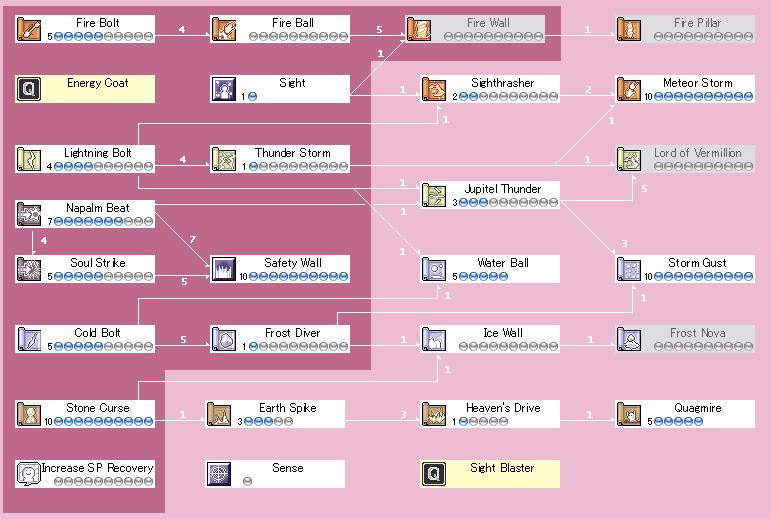 The main portion of the skills is pretty much obligatory.
Storm Gust
and Meteor Storm
are essentials as Meteor Storm is stackable and can be used when a high-MATK wizard (the infamous 130 INT one) is casting Storm Gust already.
Safetywall
is more than handy to protect yourself and the emperium.
Stone Curse
is indespensable as commonly used Marc cards make Frost Diver void and can be replaced with a low rank Storm Gust if really needed (for comparison: a level 1 SG has a base cast time of 6 seconds, reduced to 3.2 seconds with 70 DEX).
Also (loved by friends and foes) Quagmire
should not be missing and sicnce the effect and more important duration are depending on the level one should get max rank.
One could become philosophical about Waterball
but as it is the strongest single-target spell in the game why dismiss its potential. If a sage with Deluge
is at hand it becomes an equivalent threat to Asura Strike.
However this skill build leaves one open with 10 unallocated skill points, which I personally would put into Firebolt (5 ->10)
and JT (3 -> 8)
. Alternatively one could consider SP Recovery, Heavens Drive, Earth Spike or Soul Strike also. In any case one should get either Firebolt (synergizes with Stone Course) or Jupitel Thunder (synergizes with frozen ailment from Storm Gust) at max rank as you'd else lack a strong single target spell.
This build is aiming for high surviveability, nearly uninterruptable pre-cast and moderate damage output. I did not take into account active support from priests (except Blessing), Bards, Dancers or other classes to not get into a
What-Would-Be-Possible
-Discussion.