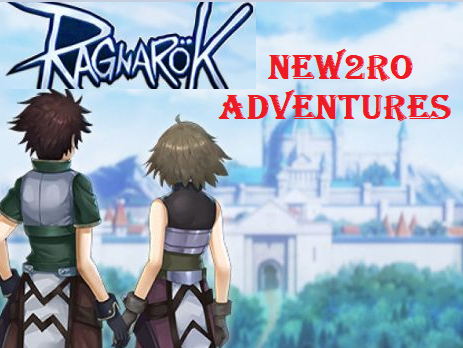 Hello Boys and Girls
im New2Ro.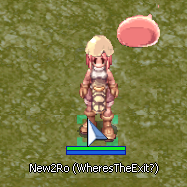 im kind of new to this game and want to tell you my story/Adventures i will have here on originsRo.
Hope you will have abit fun in reading my storys and moments of learning more in this Game.
Keep in mind this is only a fun project - Kind of Story telling / Role Playing - but if we see us ingame, feel free to talk to me and join my Adventure!
---
Prologue + Plot:
---
While cleaning my basement, i found a old gaming magazine with a CD inside.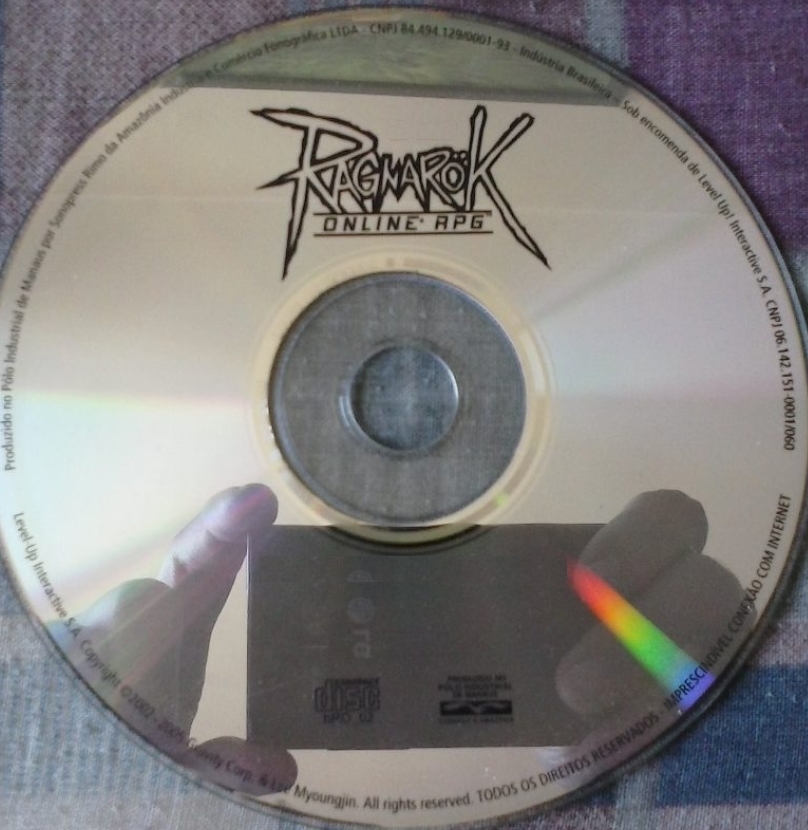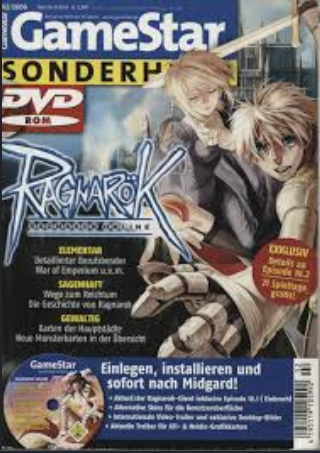 Ragnarok Online

i remembered all those nice talks from my old Buddy
Kevin
about this game back in the days.
He played that game quite alot. And everytime we met in those old days, he talked about how great that Ragnarok game is.
in the past i was never into PC gaming - so back then i didnt cared much.
But now i got some free time IRL, so i was curious and tried to install it.
Unfortunately the CD didnt worked anymore, damn Windows 10 *grrrr*
---------------
So next time i met Kevin, i told him about my recent basement discovery.
And he was like:
"Aw BUDDY- Ragnarok was rly a game that i played with pure heart and soul - but you know - RealLife hits hard, and i wasnt able to play it for awhile."
"a old RO friend of mine - just told me about a really good RO server called originsRo (oRO)- you should try that - i dont have the time anymore for that stuff"

"But they told me oRo had ONE FLAW - it lacks on new content, they told me theres not much to do untill they bring the "Trans/Rebirth update" live. they are working on it thou.
So soon

(tm)

you will be able to play the whole Ragnarok Game on oRo."
WOW THAT SOUNDS JUST PERFECT FOR ME!!
I dont know this game yet- so little content seems to be just right to learn more about this game!
So Kevin and i had a short talk about how to start Ragnarok, like Stats, leveling on Monsters and that he recommend me to start as a Mage and Acolyte as "Buff" couple first.
--------------
As i came home again - i downloaded oRo and created a char!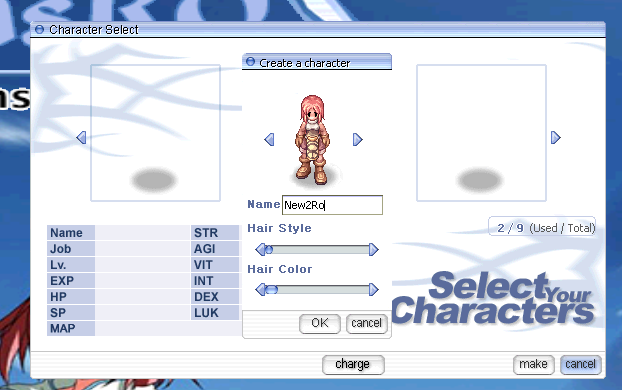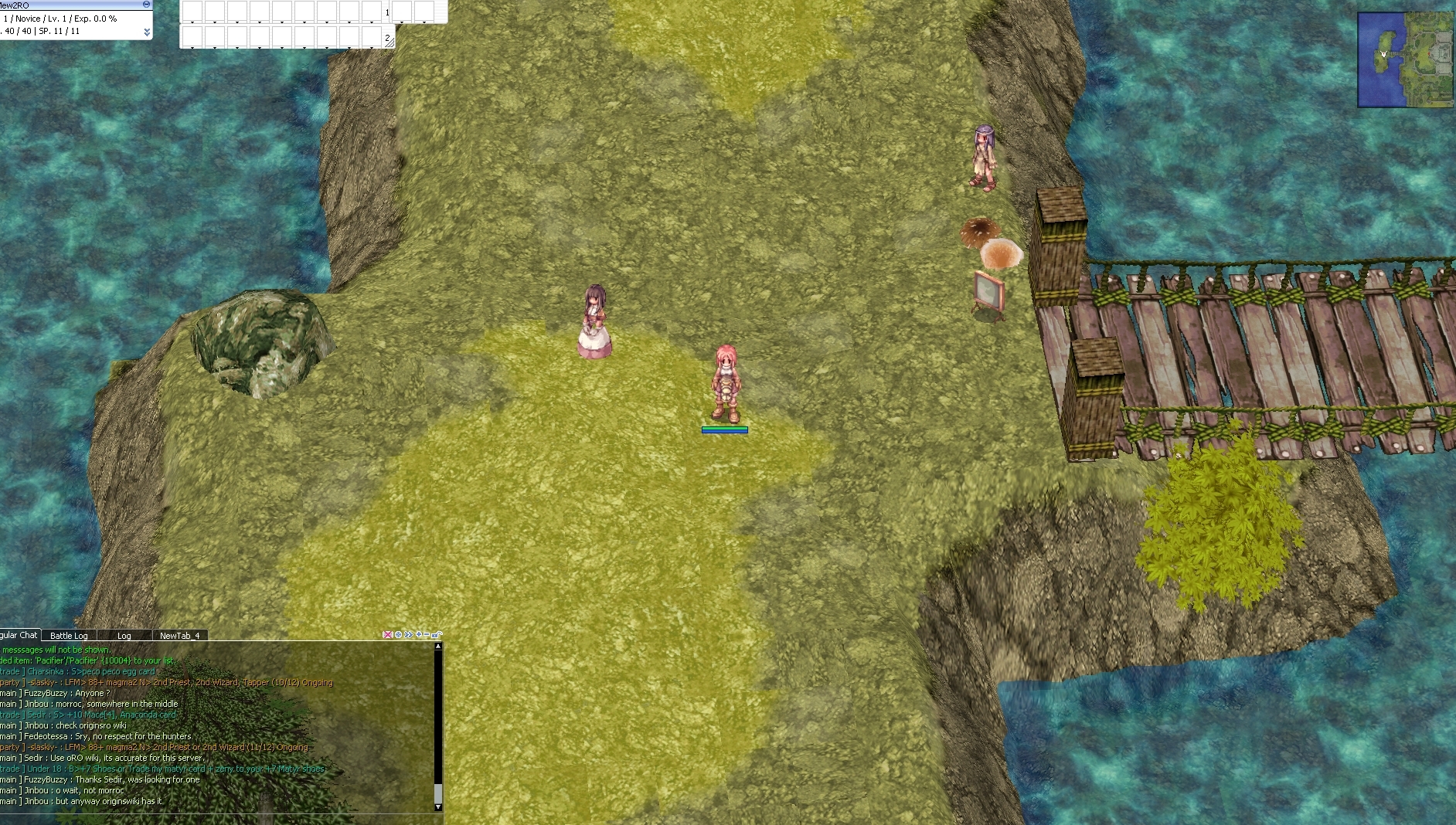 and i must confess- this game really looks cute. i like the comic 2d/3d style - its kind of oldschool - nice!
The first map was really beautiful - yet really empty. is this normal?
i remembered that Kevin's friends told him about the lack of content....but.... WAIT....Kevin also often told me about maps with Monsters!
So there must be more!
But where?
....
Aaaaaah - so
this is how u change maps. those Water looking Portals.
okay got it!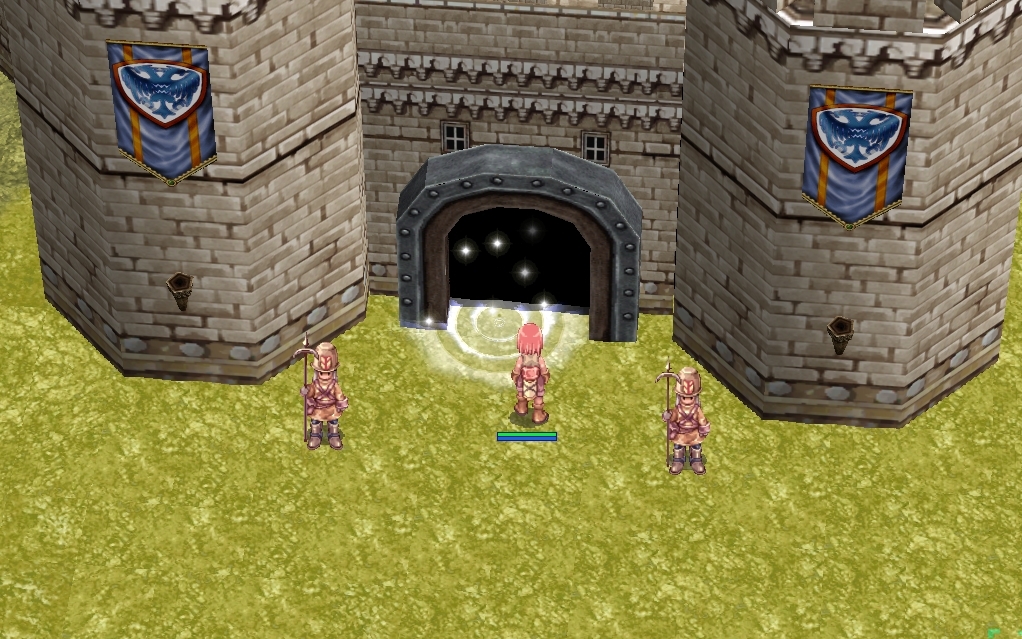 And so i met the NPC Sprakki wich told me more about stats.

I remembered the talk with Kevin and he said i should do mainly Int and Dex on my mage. Int first untill like 70ish. Then Dex to the same.
so i did 9 int, 9 dex and 9 agi instead of 9 luk - im feeling i was right with that agi > luk , because im not that kind of a lucky person anyway.
Inside there were mostly npcs that gave me free stuff and a few lvlups - yay <3
i dunno what they talked to me, i hate reading through text - but somehow i made it correct.
and suddenly - i dont know how - i found myself on a new map and YEEEEEEEEEEEEEES- FINALLY SOME MONSTERS!!!!!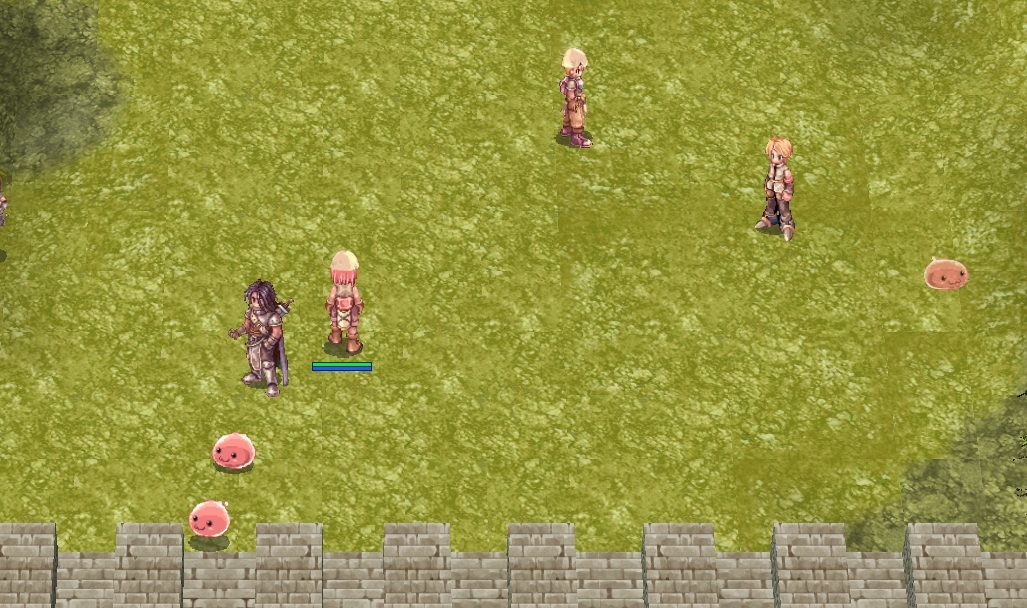 there were some npcs on that map too. after doing a poring kill quest- i found a npc that heals me perm. thats nice.
Above of it theres a Merchant. Oh i see, i can buy Potatoes for HP recovery and sell my loot there. nice im slowly getting used to RO!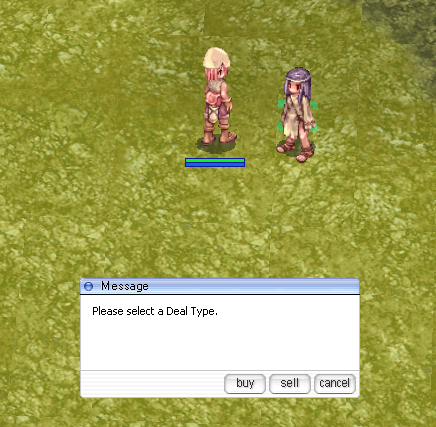 i walked abit more to the north and discovered another npc - the Magican Guide
i remembered Kevin told me about becoming a Mage - and i was right with checking the Magican Guide NPC - because that skill book transformed me into A REAL MAGICAN YEEEEAAAA.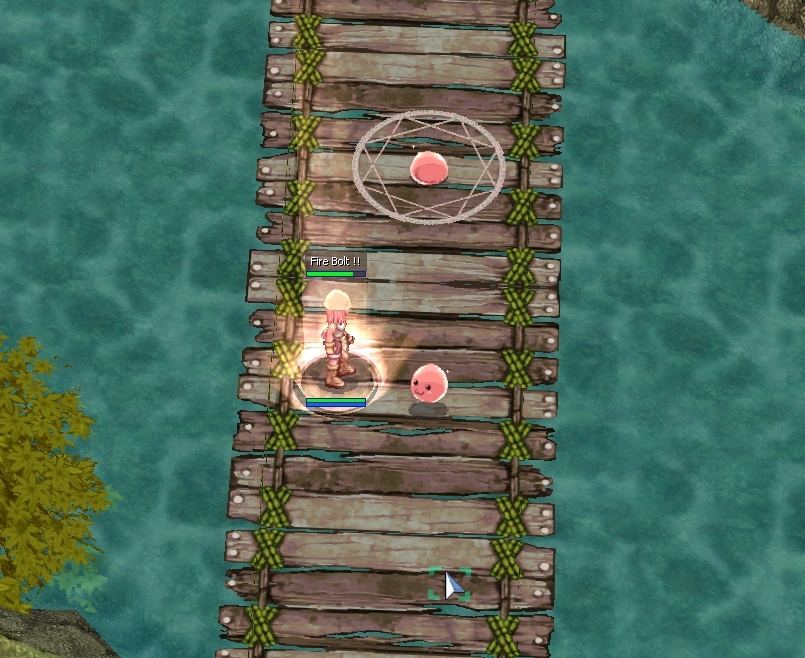 While checking the map,
i found other job class npcs, incl. the acolyte one. nice ill come back to that later.
and some Jelly & Rabbit like Monsters.
sadly there wasnt any Warp portal on this map.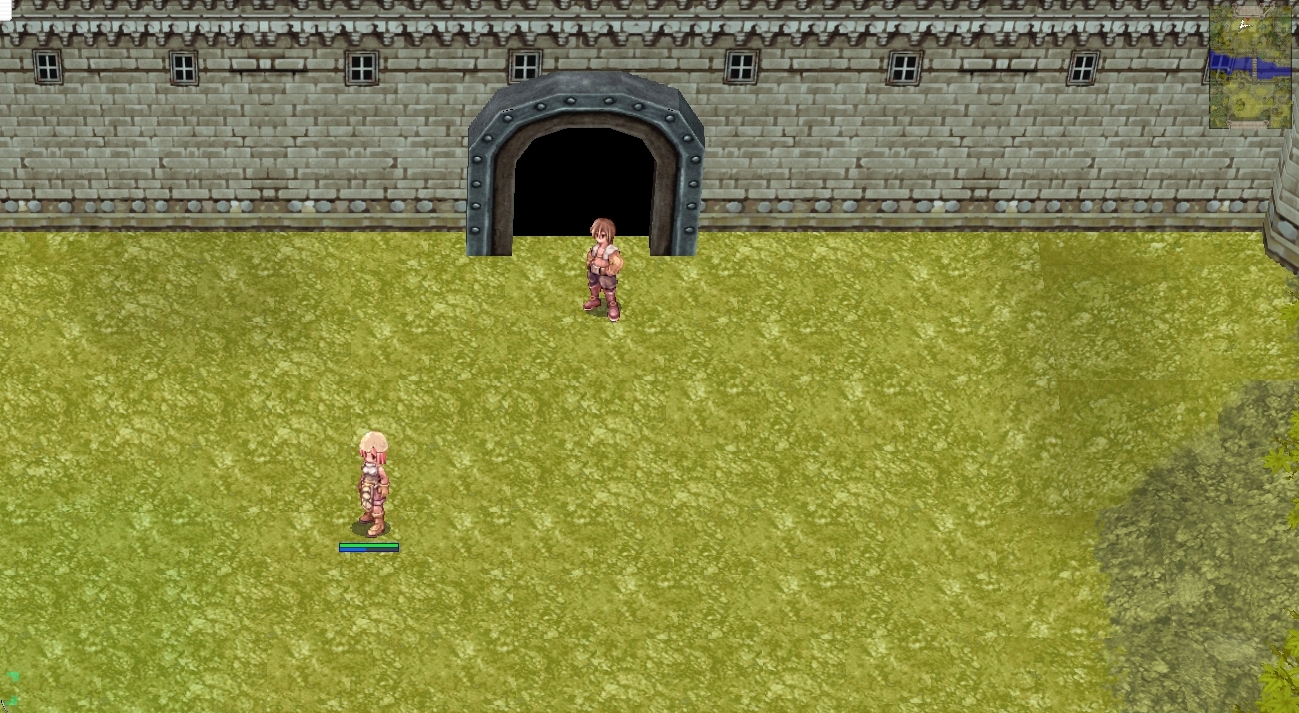 So theres only 1 map to kill Monsters?
well i knew Kevin's friends told me that oRo is at a old state of content.
And they said there will come a BIG content update soon
(tm)
called Trans/Rebirth update.
Okay i guess ive to wait for this update to see more...
Allright - im fine with that -
i will stay here, on this map, kill some jelly monsters, level up and get some Money

. I will increase my knowledge of this Game with this adventure

untill this so called Trans update will soon

(tm)

be implemented
.
---
Day 1 - i wanna be there very best...
---
i managed to get some levels.
Kevin told me to kill some Drops - to get a Rod [4]
and he was totally RIGHT.
After i figured out that i have to use a Magnifier -
that Rod boosted my damage quite alot!
Lucky that npc inside the Castle, gave me one before i came onto this map. That game seems to be balanced pretty good!
Before i had to use the npc healer so often -but now i only need to use it for SP because my Cold bolt can kill Drops
IN ONE HIT
thats strong !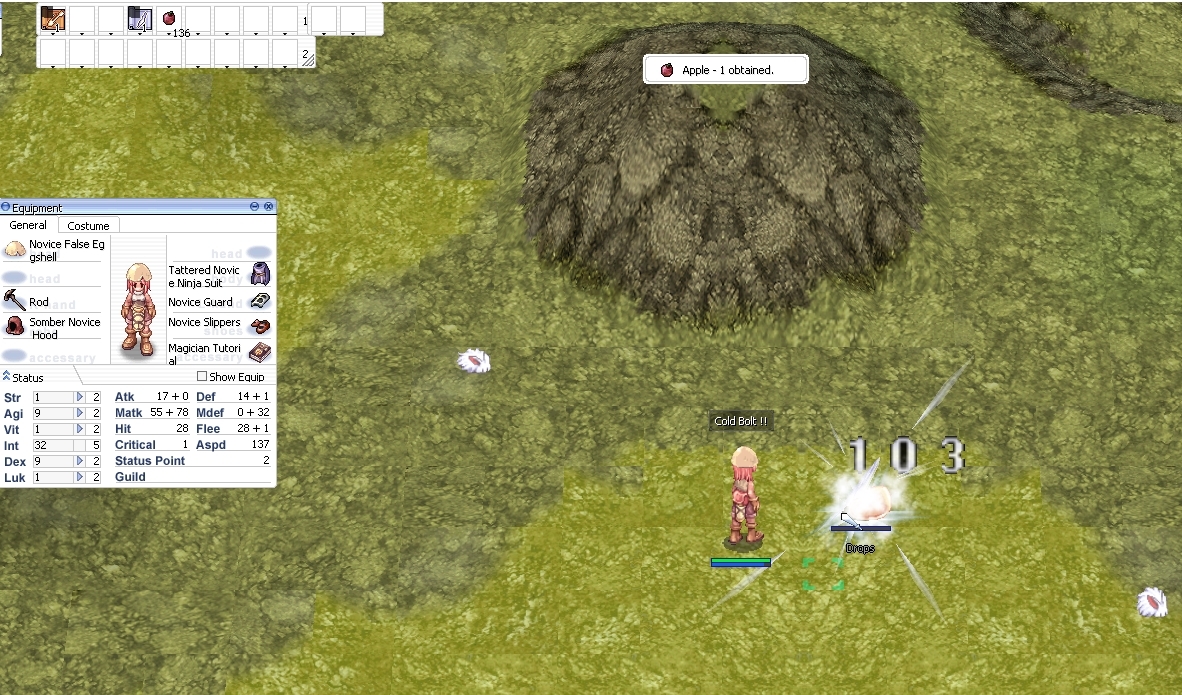 Kevin also told me to keep on farming those drops, because their card gives +1 dex, and most mages go for a 4xDrops card Rod.
allright ill do that - sounds easy.
this day i wasnt able to play long, its alrdy evening.
Untill this point im lvl 19/10 - hope im able to play more on the next day !
While in bed, i was still exited about this new Game.
And i remembered Kevin told me about creating a second char as Acolyte, so i can heal and even buff myself to "walk faster".
Its true that those walks from one side of the map to the other were abit boring and slow.
so i decided to create a second char to have a - how did Kevin called it - "BuffSlave".
i called him: RagnarokFanboy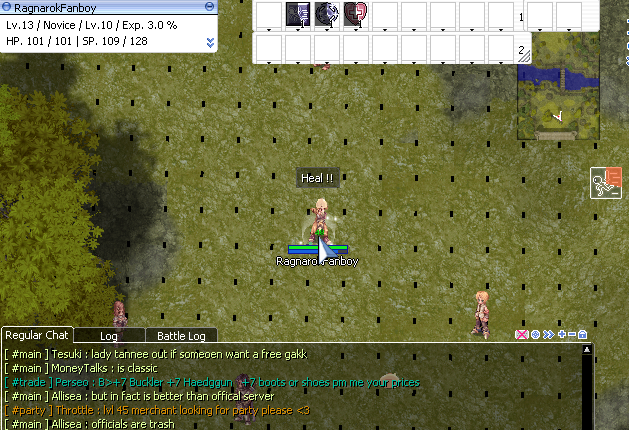 dunno why i had Kevin in my mind while searching for a "BuffSlave" charname, but well...
and wow, Kevin was totally right again. THAT WALKSPEED IS INSANE.
Blessing doesnt seem to bring much and i dont need to heal alot either. But that Increase Agility is CRAAAAZY.
Sadly it runs out quite fast. but just in time to make 1-2 Rounds through the map and then i can heal the sp of my Buffslave on that HealerNPC again.
Just in Time. Pretty balanced in my opinion. Devs surely did a great work here. Heads up!
i dont think leveling him whould bring me much, its just for casting that support spells on my self.
but with this strategy, and some grinding , i was able to push myself up IN NO TIME to level 26!!!
crazy right?
i guess i got "skill" inside me to play more of that MMO stuff
okay.... i must confess: Kevin helped me alot too!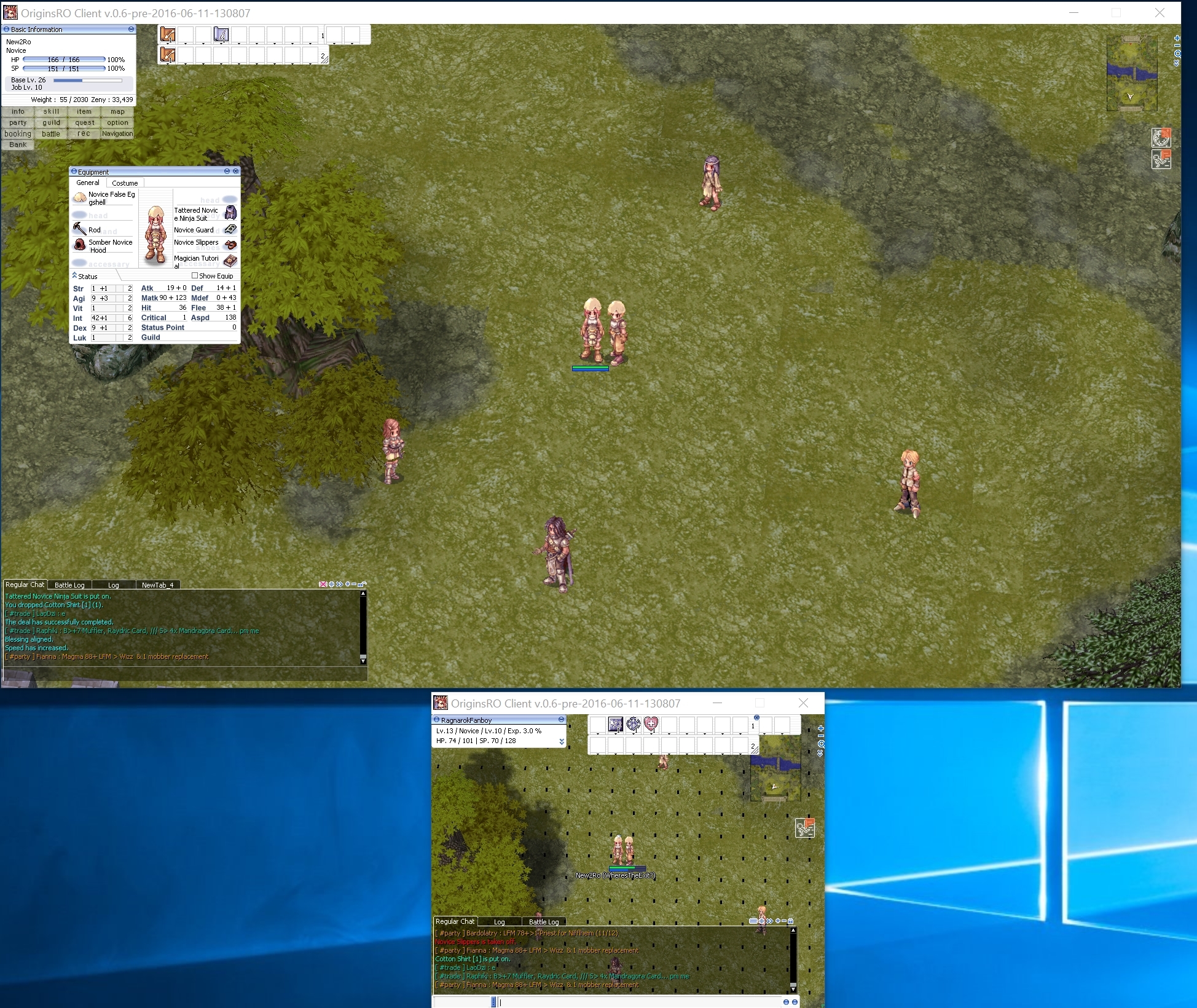 This is my setup now.
I also made good Zeny as you can see .
got RL stuff to do now, cant wait to play more Tomorrow!
---
Day 3 - First Luck & meeting with "The GOD of RO"
---
Wow guys, today ALOT of stuff happened.
Guess what,
a red message just appeared!
WAAAAAAAAAAAAAAAAAAAAAAA - I DID IT!
Look at that: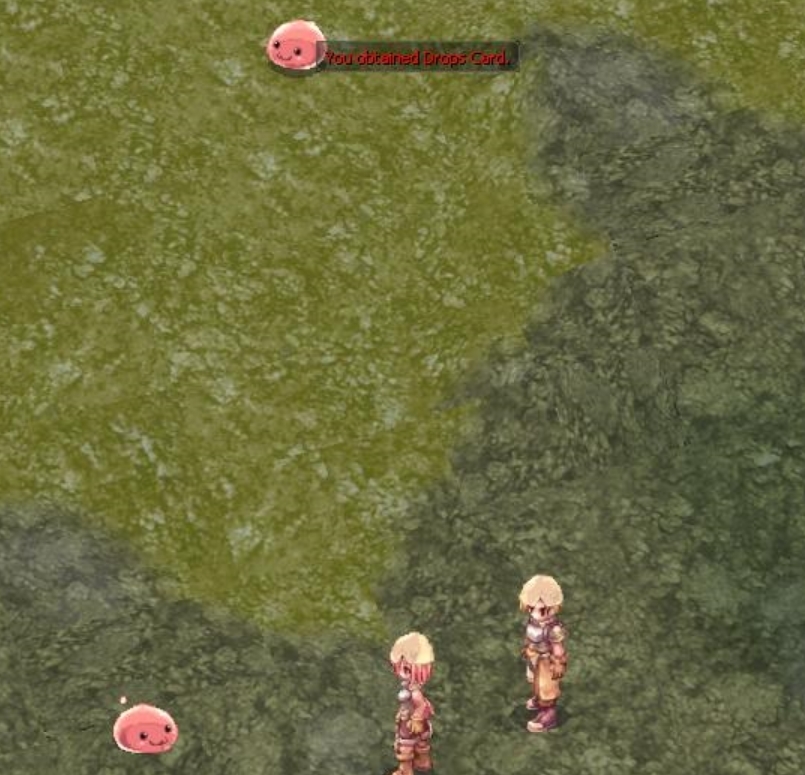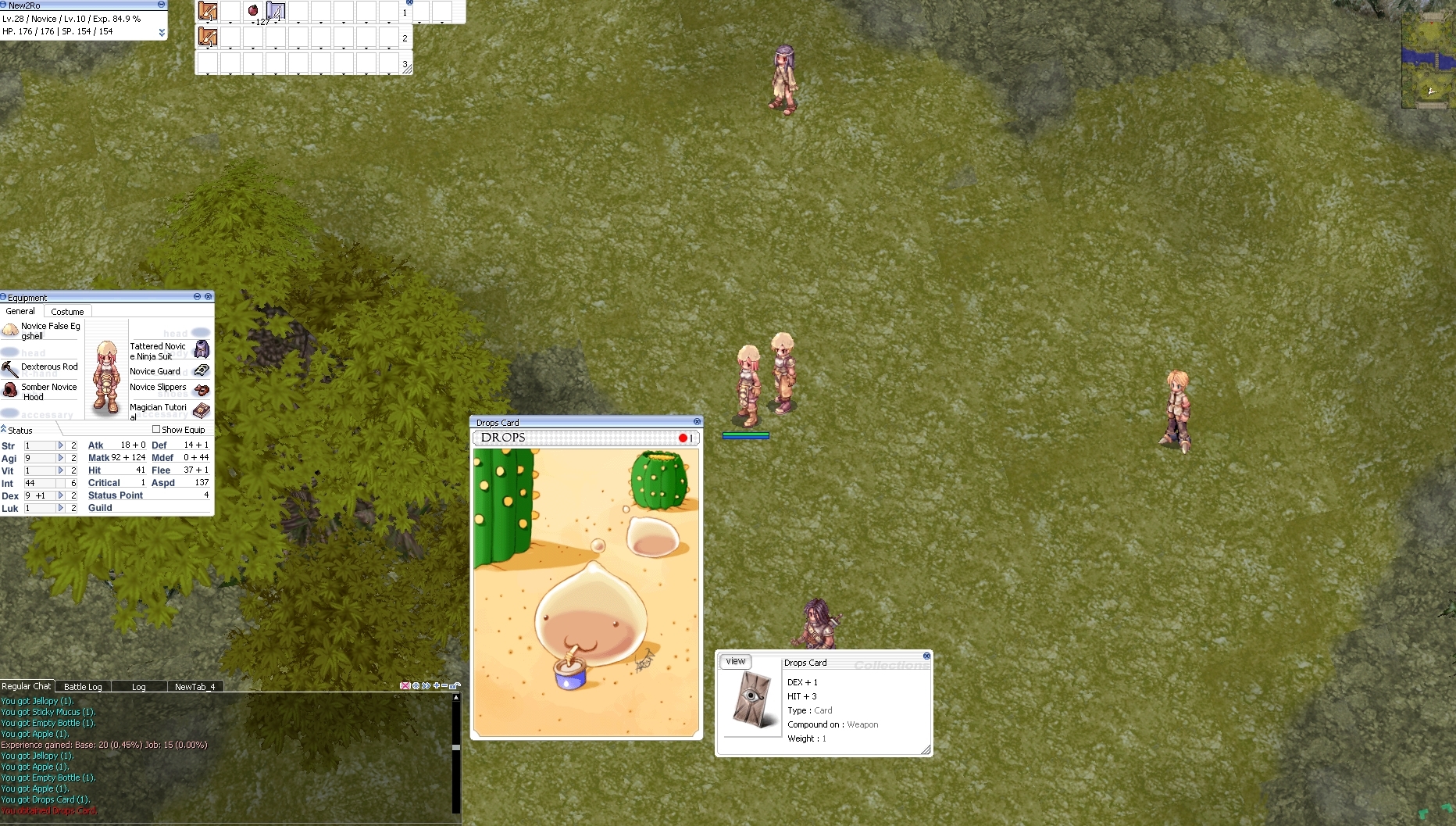 Only 3 more to go. And this on my 3rd day! not bad for a newb i guess.
it really increased my levelup speed ALOT! i can feel the power
And if that whouldnt be enought action for today, something else happened:
As i reached lvl 30 - i saw a strange Popup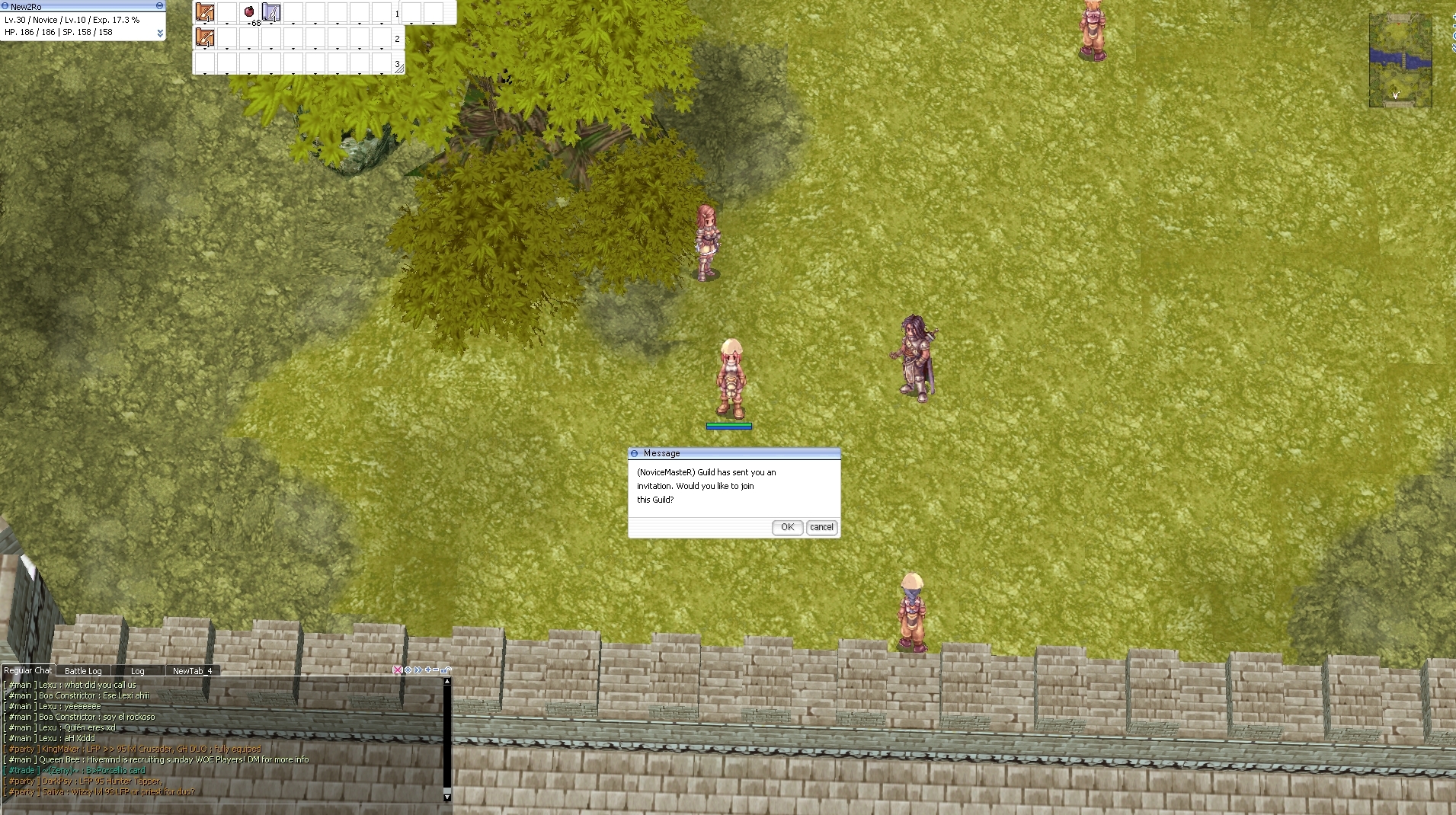 first i cancel'ed it and farmed more drops again, but that popup kept coming up again and again.
So i Confirmed it.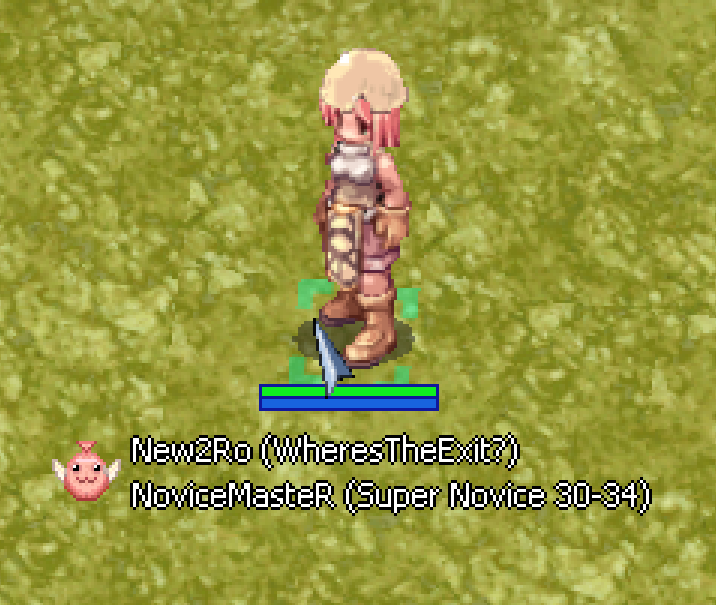 NoviceMasteR? a Guild?
i remember Kevin saying something about "Strong peoples get together in a guild to fight Stronger Monsters and other Guilds in epic wars"
well that sounds cool.
Then suddenly some text appeared in my Text box on the bottom left.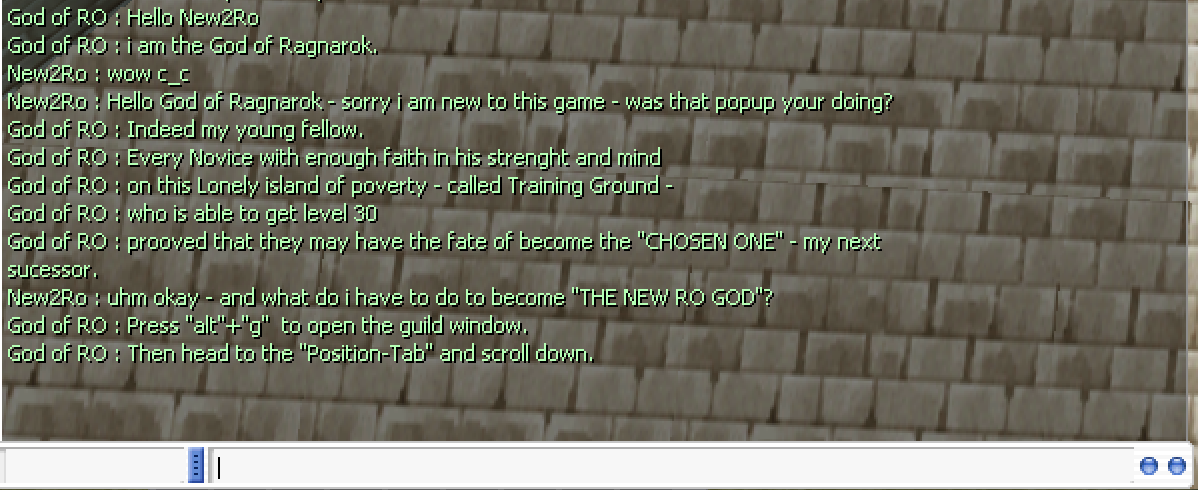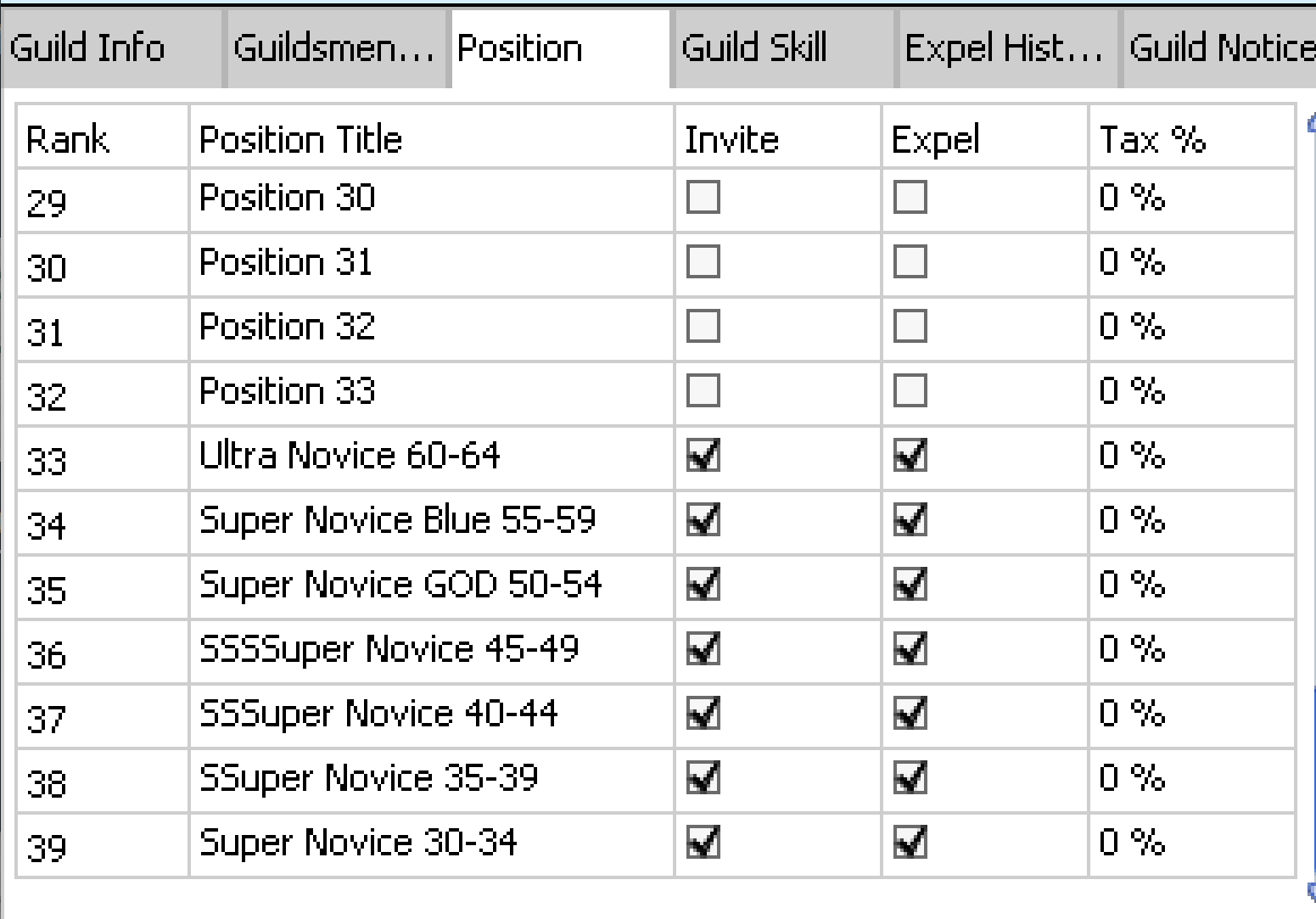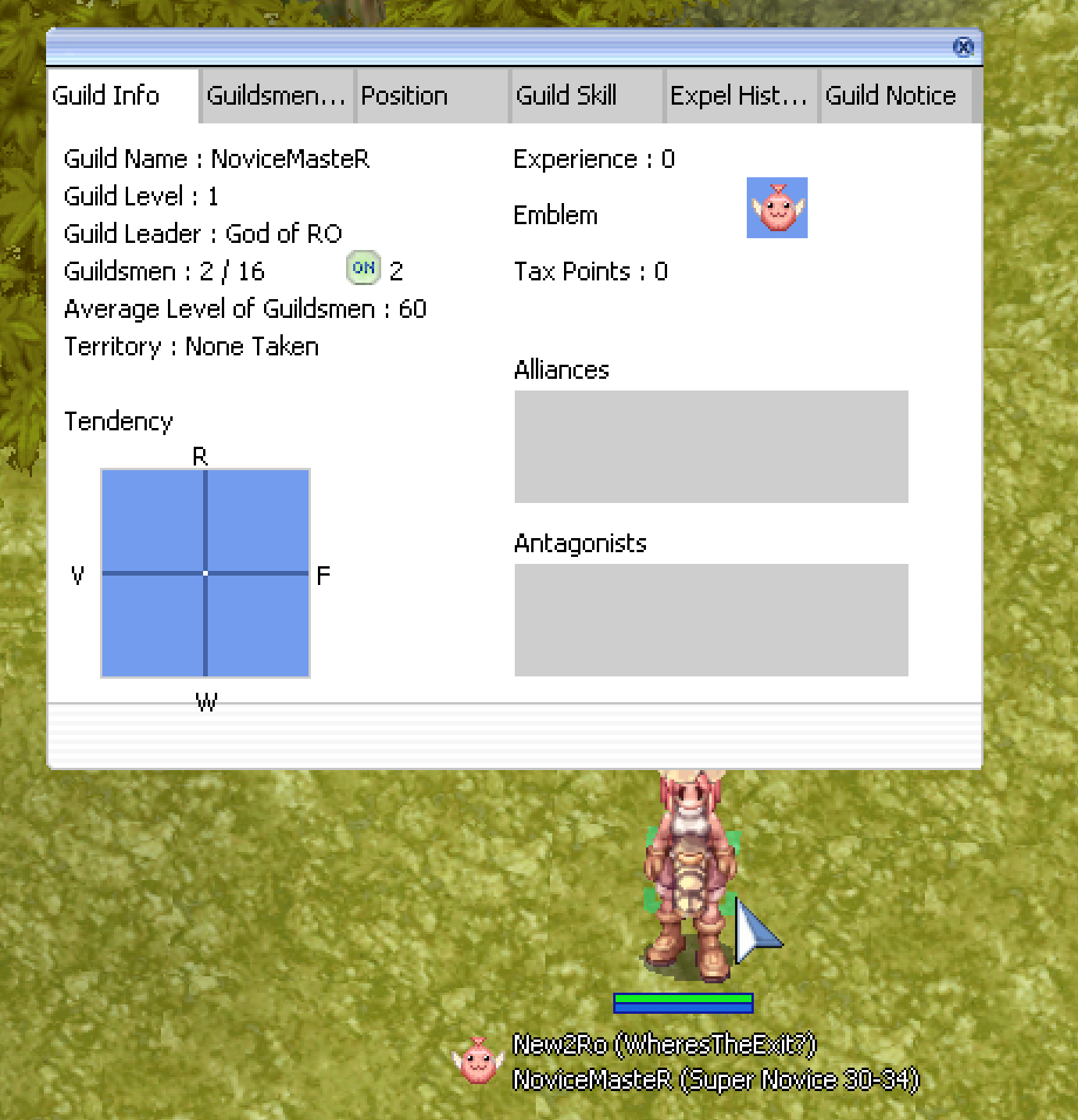 Oh boy. i got the chance to become the new RO GOD's right hand and some day- maybe even GOD HIMSELF
if i just farm like mad in this Training Ground.
Thats nice.
Hope i will be a RO God before this so called "Trans/Rebirth update" will come to this beatiful server thou.
it whould be hell of fun to explore more of the new content
AS A GOD!
uhm by the way - what is a "RO God" at all?
whats the benefit for it? do i get some SUPER POWERS?
damn.
i forgott to ask him D:
i'll do that next time
im tired now. will just kill a few more drops and go back to my bed.
Good Night - see ya tomorrow!
---
Day 4 - - slowly getting RICH -
---
Kevin was right with the Drops farming.
Not only because of the Rod and the Card
but it also seems to be extremely rewarding in terms of MONEY.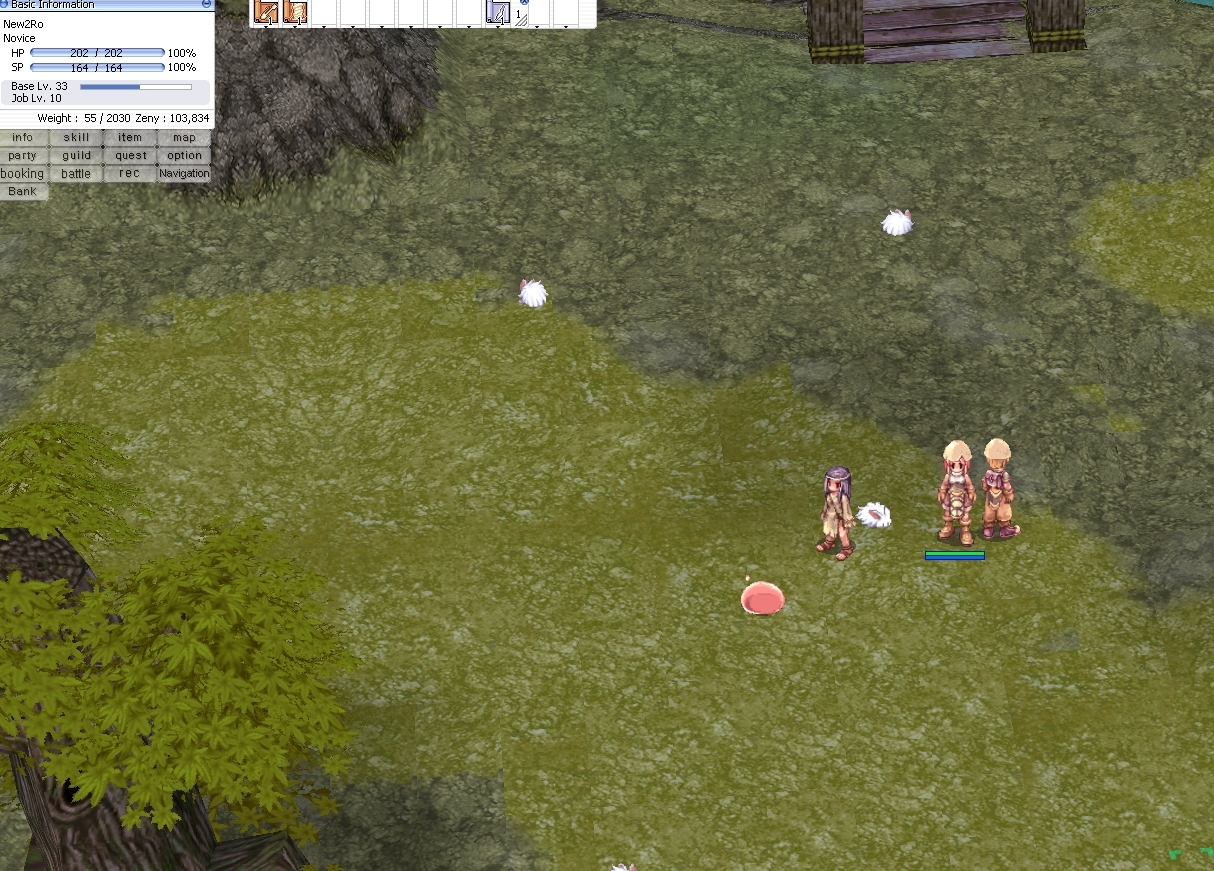 im not even 1 week here and i already got over 100.000 ZENY!
Boooy, just imagine how many Potatoes i can buy from that merchant npc.
I rly made a good choice with the Mage and Aco couple.
This way i dont even need to buy Potatoes.
Im wondering if the merchant gets a upgrade with the future episodes thou.
Only Potatoes is not very much stuff to buy.
what about more items or better equip? More maps and Monsters?
Huhm guess ive to wait for the next oRO update
no problem! when it comes ill be a rich overleveled Novice who knows everything about Ragnarok
The God of RO will be very proud - im sure!
Untill that ill just keep going to kill Drops here on this map <3
---
Day 5 - Rank 1 Done - Level 35 - Meeting with the GOD of RO (2)
---
Allright guys, i did it! im level 35 , still didnt found a 2nd Drops card, but i feel it will drop like in any minute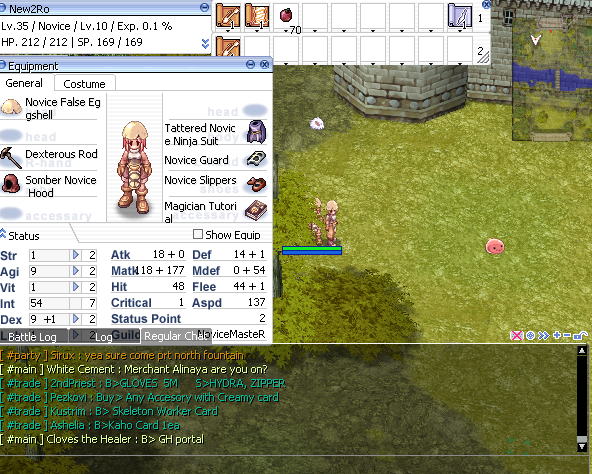 i must confess, it takes more and more time to get some level ups
BUT im sure once i got my 4x Drops, and some more int/sp i can level even faster!
The GOD of RO said it wont be easy.
And i can also remember Kevin telling me how he used to farm like thousand of hours in Ragnarok Online.
DAMN
I WILL NOT FAIL - like all the others before me!
that beeing said.... where is the GOD of RO now?
(30min later)
Ah there he is:


and then he went offline again
oh well, i guess ill have to face some more days of grinding untill i can see him again.
Sadly its ABIT boring alone.
I ALWAYS SEE OTHER PEOPLES on this map.
and i also buff and heal them with my buffslave to help them leveling.
But sadly after just a few minutes, they are gone again.
i never saw anyone for a second time
i wonder why.
Ragnarok makes so much fun - i really like it!
Why do they quit the game so fast?
aw.
I wish SOMEBODY whould join my Novice Adventure, maybe even join the NoviceMasteR Guild
that whould be cool

maybe i should start to recruit more Novices on the training Ground that are level30+
---
Day 6 - The Fast leveling - Lucky Novice
---
what a day.
Today it feels like leveling on those Drops monsters- is going MUCH FASTER than usual.
Strange. sometimes they give more and sometimes abit less exp. like a "floating" exp range. O.o
I guess theres still much about Ragnarok that i dont know
but regardless - i took this chance and lvled fast like never before!
lvlup to 36 yeaaaa
and soon
(tm)
im 37
but that wasnt my highlight today, look at THAT: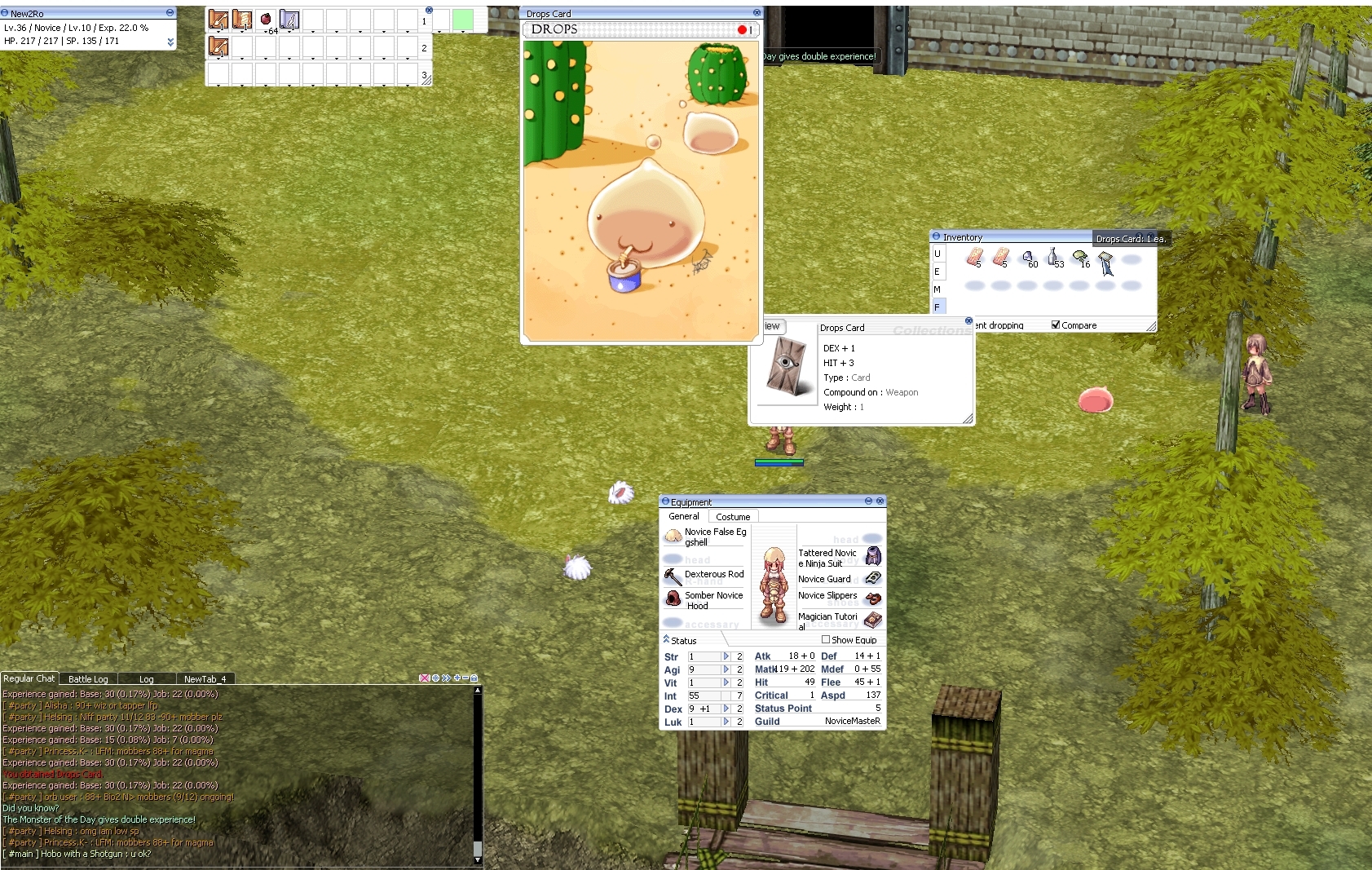 my 2nd Drops card! finally
and guess what? i thought "oh well lets call it a day and go to bed."
but while beeing in bed i wasnt able to sleep - so i started my old little laptop and kept playing abit more Ragnarok on this small screen.
and just compair the level exp % of the next screen with the prev. one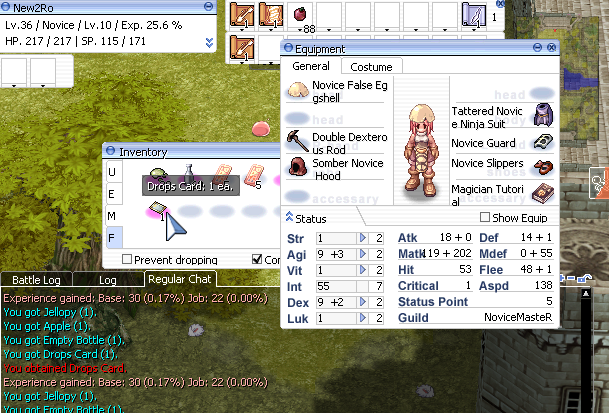 BOOM - 3rd card drop.
Seems like mother luck was with me today
great day!
Just 1 drops card left, and i will prolly have the strongest weapon EVER on this server.
the next update on originsRo shall come - I WILL BE READY FOR IT!
today i was grinding like always, and recruiting new members in #main as always
and suddenly a new novice appeared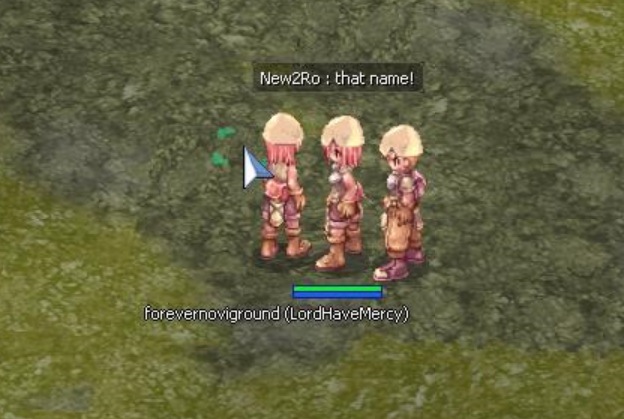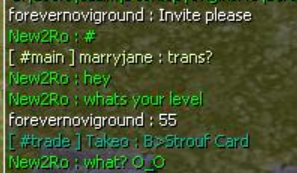 wow guys, you can imagine, i didnt believed it, level 55 WOW
and its true!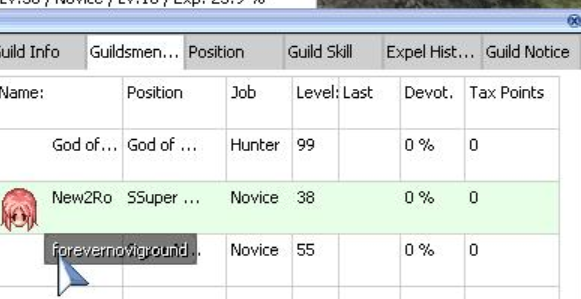 i was so happy, i finally found a new member!
but i am shocked and impressed at the same time - his level - 55 - damn.
Im wondering why the God of RO didnt recognized him earlier!
Maybe hes one of those friends who told Kevin to join this server? i dont know....
He is a Str Acolyte type novice, equiped with 4x Hornet Maingauche and Picky Cotton Shirt
So he can agi up himself all the time while dealing devastating damage with his dagger to monsters!
Really nice build!
we talked quite abit and i must confess- there is still so much new stuff about RO i have to learn.
he recommended me to level up fast to lvl45, so we can get in share range.
Together- with the share bonus exp - we can grind even more effective on TrainingGround than we did solo.
cant wait for that duo party grind in future - looking forward to it!
and im glad that our guild is growing.
I hope we both can find even more members in future!
and stay tuned for alot of other new stuff that happened and will happen in future!
#goAndCreateYourNovice
#joinNoviceMasteRguild

---
Day 7 - my 4th Drops card
---
Nothing special happened today.... except i finally found my last 4th Drops card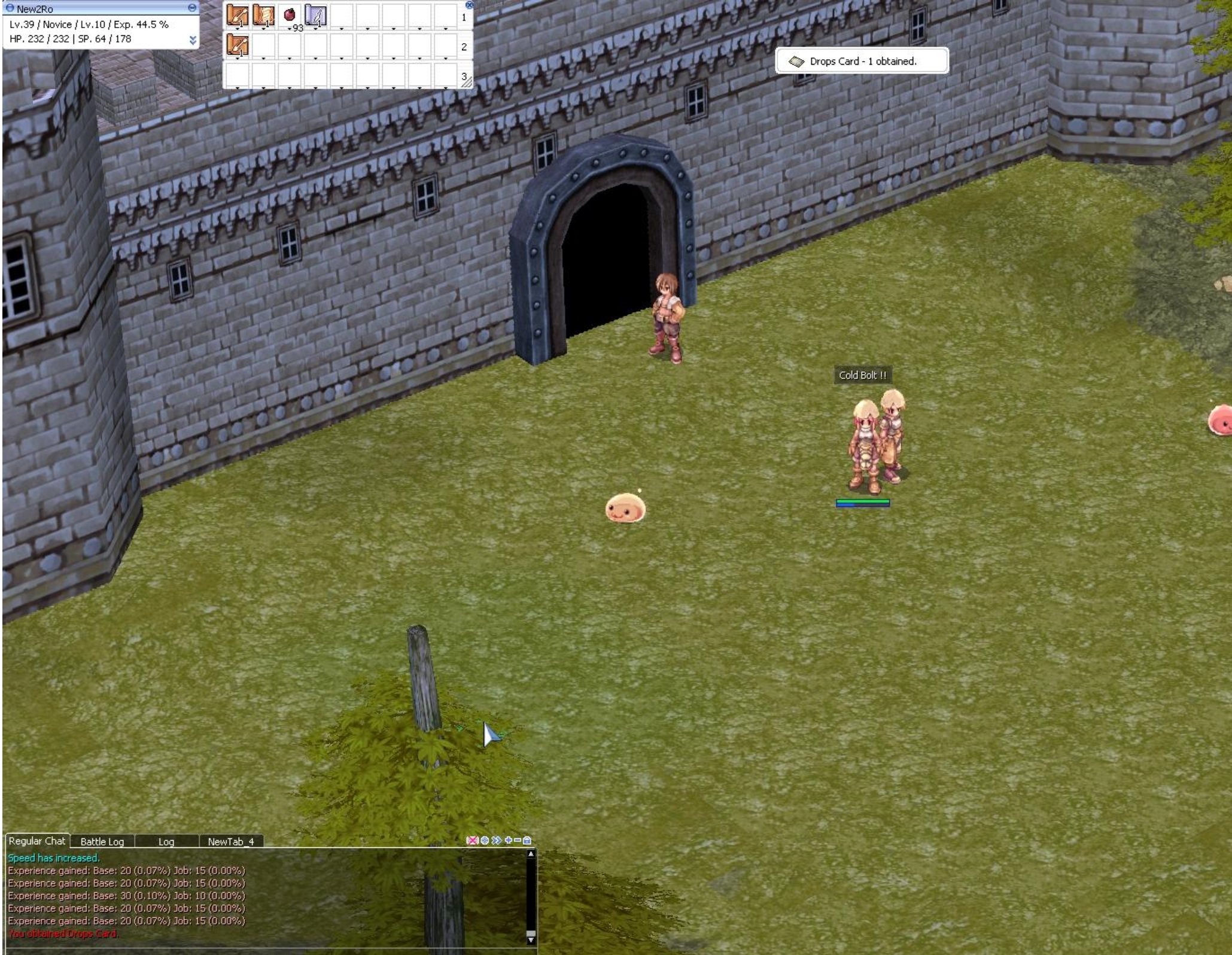 yay
look at this beautiful, long and strong Rod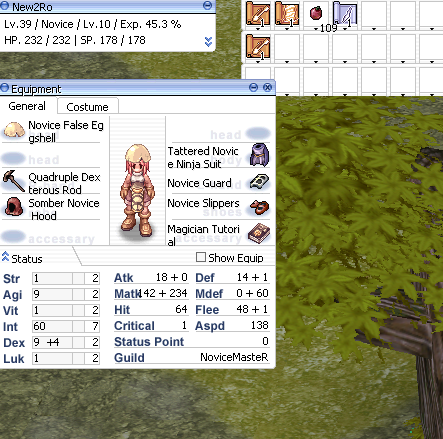 with this i can slay those monsters even more fast!
and im finally done with those drops monsters too
20 ep per kill is abit slow in my opinion.
currently, on lvl 39, they give me 0,07 % each kill.
it starts to become quite a grind.
i guess ill switch to those Lunatics now as maintarget.
They give
30 ep per kill
. thats way more!
But tbh, i wish there whould be more monsters
hope the oRo update will hit soon, so we can get new monsters, maps and content
---
Day 8 - WAIT WHAT ? i need to click the npc to leave this map?
---
wow guys, im mindfucked O_O
guess what?
THERE ARE MORE MAPS AND MONSTERS AVAILIBLE ON ORO
MAN, i didnt knew!
why didnt somebody else told me that??
and i was searching for a Warp Portal all the time
im so shocked!
but wait- ill tell you the whole story:
------------
Today i met Kevin by chance.
On my way home, i saw him waiting at the Bus stop.
So i walked to him and we had a small chat while he was waiting for the bus:
"HEEEEEEEEY Kevin, how are you."
"Ay Buddy, nice to see you again, im fine, whassup"
"oh im doing great too- guess what ? i joined the Ragnarok originsRo server and im really enjoying it so far!"
"NICE! great to hear- how far did you made it till now?"
"Well, with your help, i made a Int mage and a Buffslave to farm Drops all day.
And i was NOT afraid of the grind - yesterday the last card dropped and now im equiped with a 4xDrops Rod
level 39 so far.
I also joined a guild, but we are only 3 peoples atm. Still growing!"
"aaah yea those feelings, when you grinded cards for so long, thousands of monsters, and then BOOM, you got the Lucky items you searched for...
thats what i always enjoyed in RO, the slow progression and when patience is paying off!"
"i was so happy when the cards finally droped...
but tbh, i cant wait for the originsRo Trans/Rebirth update.
Just this one map, and only a hand full monsters is really not much.
Even tho this TrainingGround map, is beautiful and well made."
"wait... what?
you are still in TrainingGrounds??"
"aehm, yea, my guildleader named "God of RO" said this map is know as TrainingGrounds.
You know, that map with the bridge in the middle, healer npc, shop npc...."
"Ahahahahaha
God of Ro.... wtf.....
BOY, dont joke on me. are you serious?
....
Oh FUCK theres my bus , damn , Bro i need run, see ya!"
-------------------
And while he ran to the bus, under heavy sprinting pressure with almost no air left to breath, i only understood some less parts of his shoutings:
"####you #### #### talk #### the npc #### leave that area!
More Monsters ####Maps####
NPC ####Middle####Map####"
Uhm, i need to talk to a npc to leave that area? More Monsters? More Maps? a NPC in the middle?
what the fuk?
I guess i never ran home SO FAST before. i threw my bag into the darkest corner of my Room, jumped onto my DesktopSeat.
PC online. internet Online. oRo Client Online. Character Login-- AND GO!
a npc in the middle ..... npc....in the middle...where is it ???
GOT IT - THAT MUST BE IT!
OH... MY... GOD....
Why nobody told me earlier???
i didnt knew.
How could i miss that?
But...why a npc and not a normal warp portal... damn.
Open Spoiler:
uharharharh
Now i can level and grind faster than ever before!
Cant wait untill im in Share range to our new Member "forevernoviground"
i will get you, just wait for it D:
Now the real ep and level grind will start...
#goAndCreateYourNovice
#joinNoviceMasteRguild